Local E895 Experiment Information Page
The E895 experiment resulted from moving the EOS TPC from LBNL to the Alternating Gradient Synchrotron (AGS) at Brookhaven National Laboratory. At the AGS, we examined heavy ion reactions at bombarding energies from 2 to 8 AGeV. Data were taken in 1995 and 1996 and are currently being examined.
---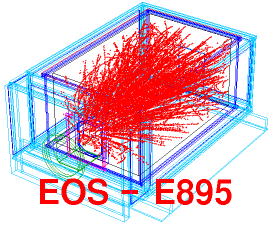 ---
Click Here for some nice pictures of the E895 experimental setup.

Jerry Chance's web pages for the MUSIC detector at E895 are currently not available. Contact Daniel Cebra or Juan Romero if you need access to the information contained in these pages.

A study of Impact parameter vs. filtered multiplicity

Bill Caskey's E895 page, which relates mostly to pion flow. (currently offline)
Ayoub Tartir's E895 page, which relates to acceptances, Pt and y spectra. (currently offline)
Particle Spectra page, maintained by Jenn Klay and Mike Heffner
A list of the processed data files used by UCD
A list of the DSTjtf2d data available at HPSS
---
Quark Matter '99 Poster on Charged Particle Spectra
DNP '99 Talk on Charged Particle Spectra
Winter Workshop 2000 Talk on Charged Particle Spectra
APS 2000 Talk on Radial Flow
APS 2000 Talk on Longitudinal Flow
---
---